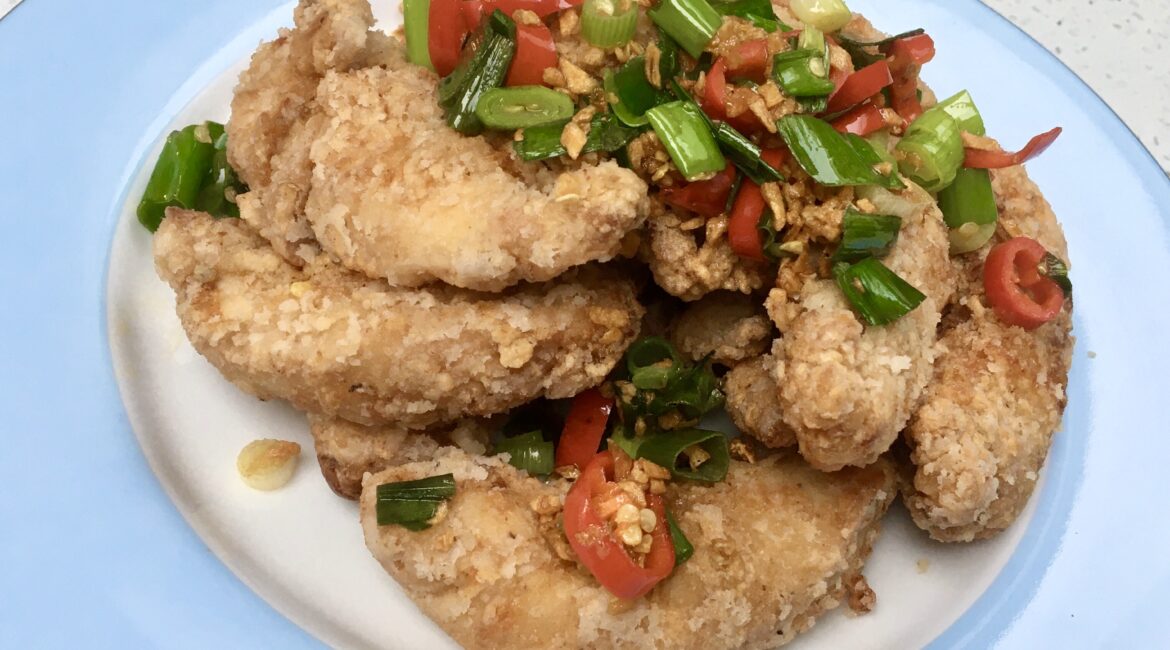 This is another recipe that is very quick and easy to do. I have tried this recipe without the chilli and it still tastes as good, so it is ideal for younger kids and those who cannot handle the heat! You can serve this as a starter with some sweet chilli sauce or as a main to go with your salad or rice or even chips, if you must!
Ingredients
Marinade

Garnish/ Topping
Put the chicken strips in a bowl and mix well with all the marinade ingredients.

Put flour in a another bowl and make sure each strip is well coated in the flour.

Heat up the oil but make sure it is not smoking hot and then carefully add the chicken strips into the pan.

Once they look golden turn them over and carry on cooking until they are cooked. It should take roughly about 5-6 minutes on each side.

Take them out and drain on paper towel to get rid of excess oil.

Time to cook the garnish topping. Fry the chopped garlic in a pan with a bit of oil. Once it is golden then add the spring onion, chilli and salt. Stir for 1-2 minutes.

Then pour it on top of the chicken strips, et voila!

If you prefer your chicken extra hot and with sauce like myself, try coating it with Encona hot sauce. I normally mix 3 tbs of Encona sauce with 3-4 tsp of sugar and a little bit of water. Simmer it until sugar has dissolved and the sauce has reduced. Then put the chicken in the sauce to coat. This sauce recipe is enough to coat 5 pieces.