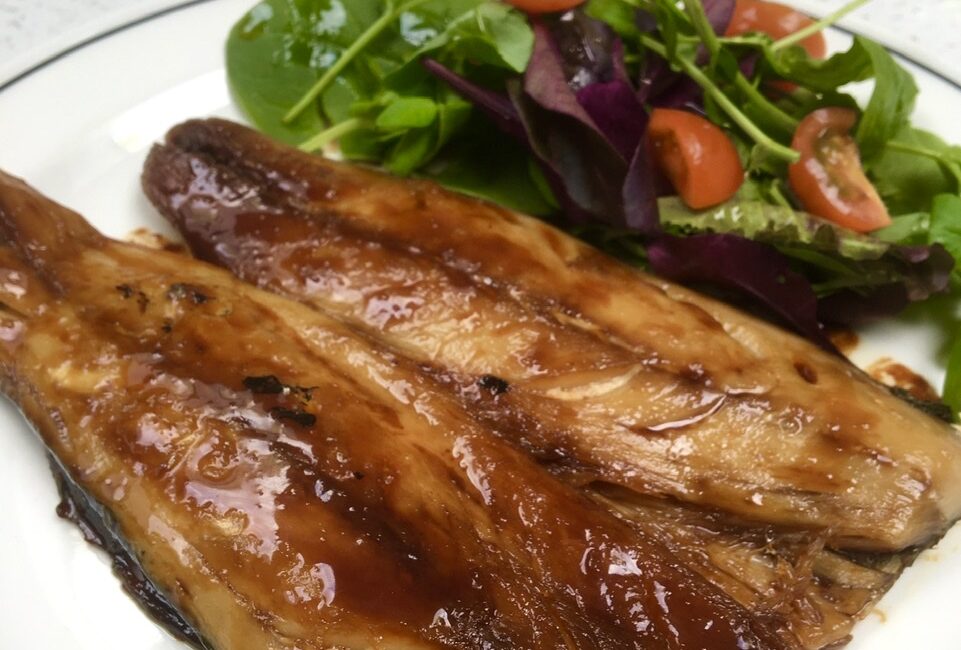 If you love fish and want something quick and easy, this is the one dish any novices can attempt. So if any of you guys out there want to cook for your wife on the odd occasion, do give this one a go. 😊
I would suggest serving it with some plain rice and salad or stir fried pak choi.
For those of you who find mackerel too strong or are not keen, you can change it to salmon instead.
Heat the pan with a little bit of oil, you do not want to put too much in because mackerel is quite an oily fish already.

Once it is hot, put the mackerel in skin side down. Now turn the heat down as you do not want to burn it. You want the fish to be cooked through.

Once the skin is crisp, turn it over and cook the other side for a couple of minutes. Now take them out and rest on paper towel to get rid of excess oil.

For the glaze, you can use the same pan but you must wipe the oil from it first. Put teriyaki sauce and sugar in the pan on a low heat. Reduce until it becomes like syrup (this should not take too long to make). The glaze should taste quite sweet as to help balancing the salty taste of mackerel.

Now add the fish to the glaze, make sure they are glazed on both sides. Then serve it with rice and salad (or whatever vegetable you fancy).