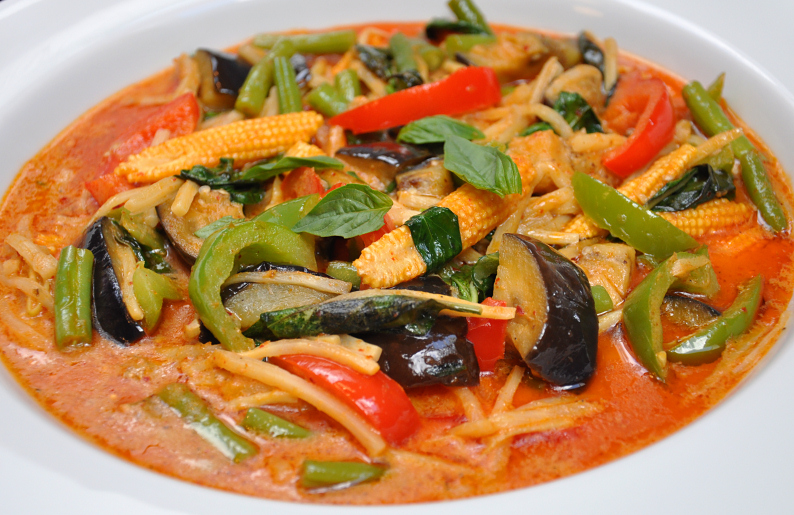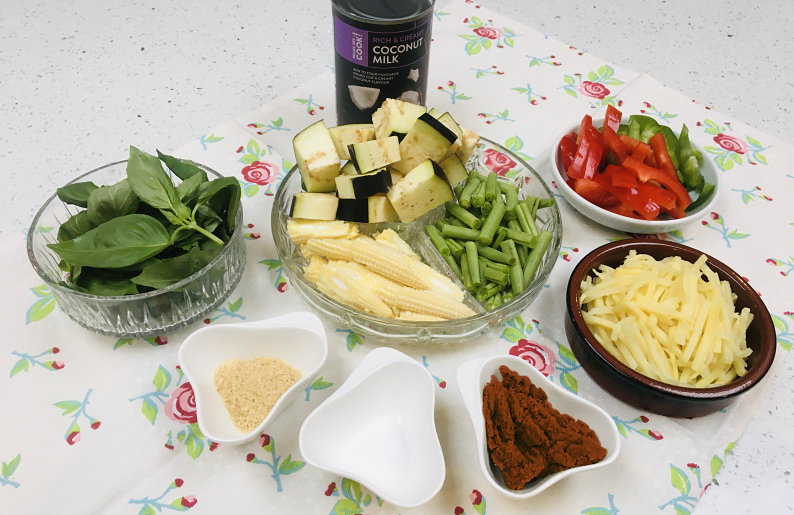 Red curry is another popular dish in Thai cuisine for curry lovers. It is rich and full of flavour, you can make it as mild or as hot as you like. The paste is made from dry red chillis with lots of herbs and spices (garlic, shallots, cumin, white pepper corns, lemongrass, galangal, kaffir lime, coriander roots, coriander seeds and salt) ground together. This paste is used in many Thai dishes, from curries, soups to stir fries. You do not have to make the paste yourself  as these days it is often found in many supermarkets, 'Mae Ploy' is a one of the popular makes.
For this recipe I went with vegetables due to requests for more vegetarian dishes. It tastes great with or without meat, it is still wholesome and satisfying. You can use any vegetables you like, I find pumpkins also go well in this dish so give it a try.
Heat the pan, add 1/3 of the coconut milk and stir until it starts to thicken a bit.

Add the curry paste and stir well into the coconut milk.

Once it bubbles up, add the bamboo shoots and salt. Quick stir.

Add the rest of the coconut milk and turn up the heat.

Now add the aubergine, baby corns, beans and sugar. Quick stir and once it starts to bubble up, put a lid on, turn down the heat and simmer.

After about 4-5 minutes, add the red and green peppers and carry on simmering until they are cooked.

Now taste and adjust to your liking, hopefully you will not have to.

Finally add fresh basil leaves, serve and enjoy!