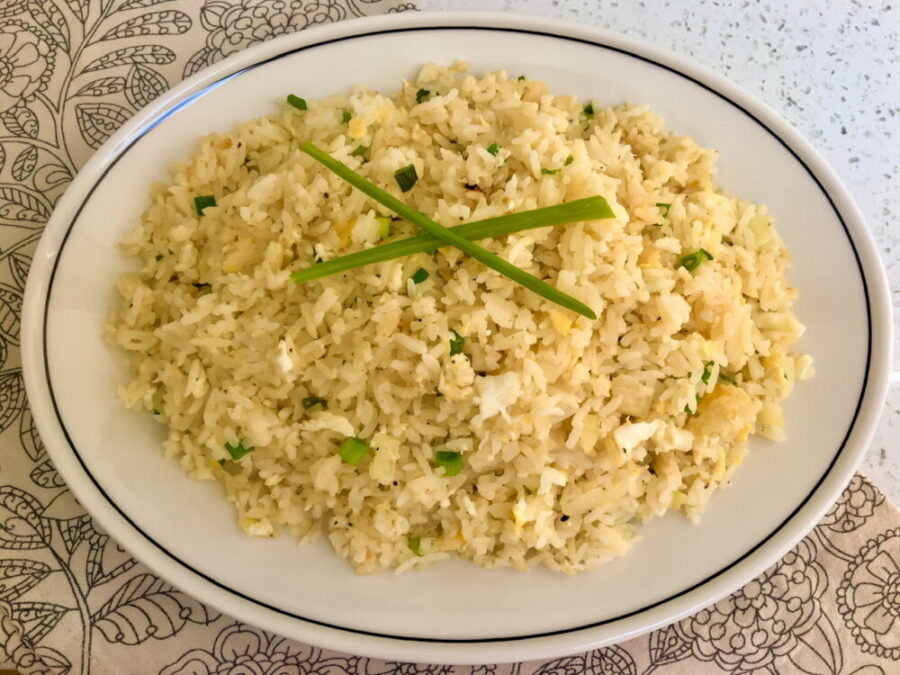 Back to basics with this one; good old egg fried rice! It is the simplest of all I would say with minimum ingredients needed. It is a change from having just plain rice, and it goes with most dishes or it is great just to eat on its own. I sometimes do that for myself when I have nothing in the fridge or can't be bothered to cook.
It is so quick, you can have it ready in under 10 minutes, as long as you already have your cooked rice. Packet rice is handy for this, I always make sure I have a couple of them in my cupboard. I find using cold/ room temperature rice is best for this. Using rice that has just been cooked is fine as long as it is not too wet/ overcooked. Otherwise your fried rice can be a bit mushy. My husband has done that before for our friends whilst I was away, and they thought they were having porridge! So since then they never accept his invite for dinner!
Heat the wok, add the oil. Once it is hot add chopped onion and quick stir.

Crack two eggs into the pan, quick stir and add salt and pepper.

Put in the cooked rice and make the egg is still a bit runny. Stir it together well, try to break the lumps of rice by pressing it down with the back of spatula. You can add a little bit of water to help. Keep stirring for about 1 minute.

Now add soy sauce and sugar, keep stirring until the rice is piping hot. Finish if off with chopped spring onions and serve.