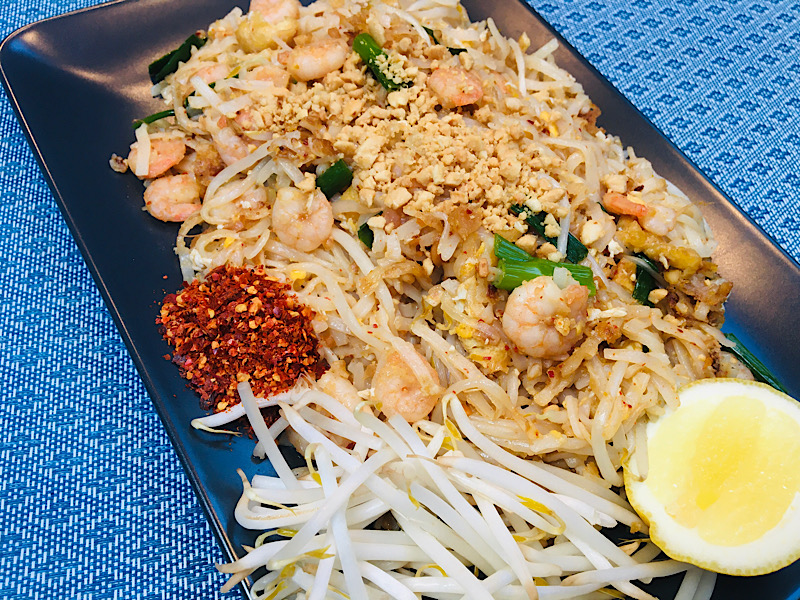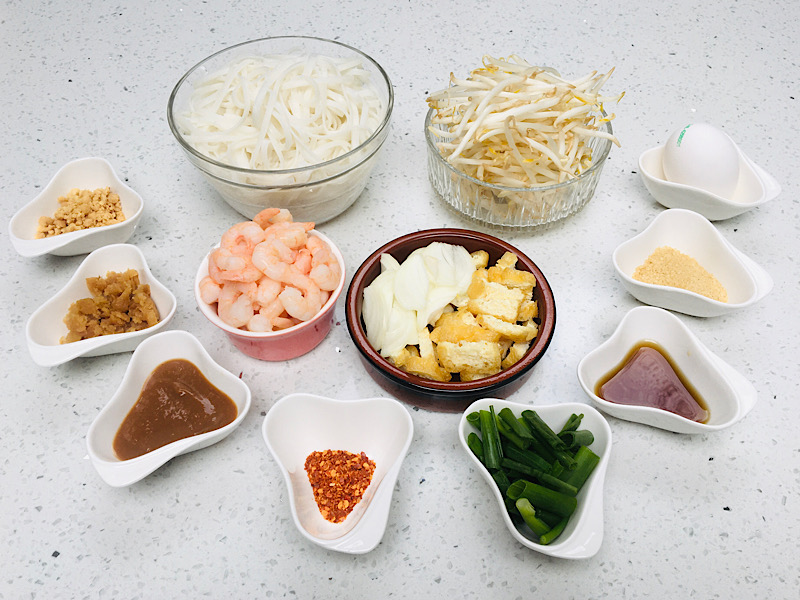 Pad Thai is one of the most popular Thai noodle dishes and it is my favourite! It is sold almost everywhere across Thailand. Like many Thai dishes it is full of flavour, sweet, salty, sour and (if you want) spicy.
For Pad Thai you need to use rice noodles which are about 3mm wide (a bit like linguine but noodles), not the vermicelli rice noodles type. They normally come dry in packet and need to be soaked in warm water before use, but you might be able to get ready-to-cook noodles in some supermarkets. In this recipe I have adjusted a few things to make it easier and still give you that Pad Thai taste, sweet, salty with a bit of tang from the tamarind! If you cannot get the tamarind paste, you can replace it with lemon juice but it will not taste as good as it is the tamarind paste that gives you the authentic taste.
Pad Thai is one of those dishes that you have to practice a few times to get the right taste, but once you have got it you will always love it! I use prawns here but you can also use chicken or go meat free. If you have nut allergy, you can also leave out the peanuts.
Heat the wok and 2 tbsp of oil, add the onions and stir for a minute.

Add the prawns and give it a quick stir. If you are using raw king prawns, keep stirring until the prawns are cooked (when they turn pinkish white).

Now add the noodles and quick stir.

Add sweet radish, tamarind paste, sugar and stir well together.

Add fish sauce and tofu, and keep stirring for a minute then push the noodles to one side of the wok.

Add the rest of oil to the wok, then crack the egg into it and give it a quick stir. Then scoop the noodles over it.

Add bean sprouts and crushed peanuts and stir well together.

Lastly add spring onions and chilli powder (optional) and give it one last quick stir. Taste and adjust if needs be.

Plate up, sprinkle with crushed peanuts, a squeeze of fresh lemon and more chilli powder if you like it spicy.