Stir Fried Glass Noodles with Vegetables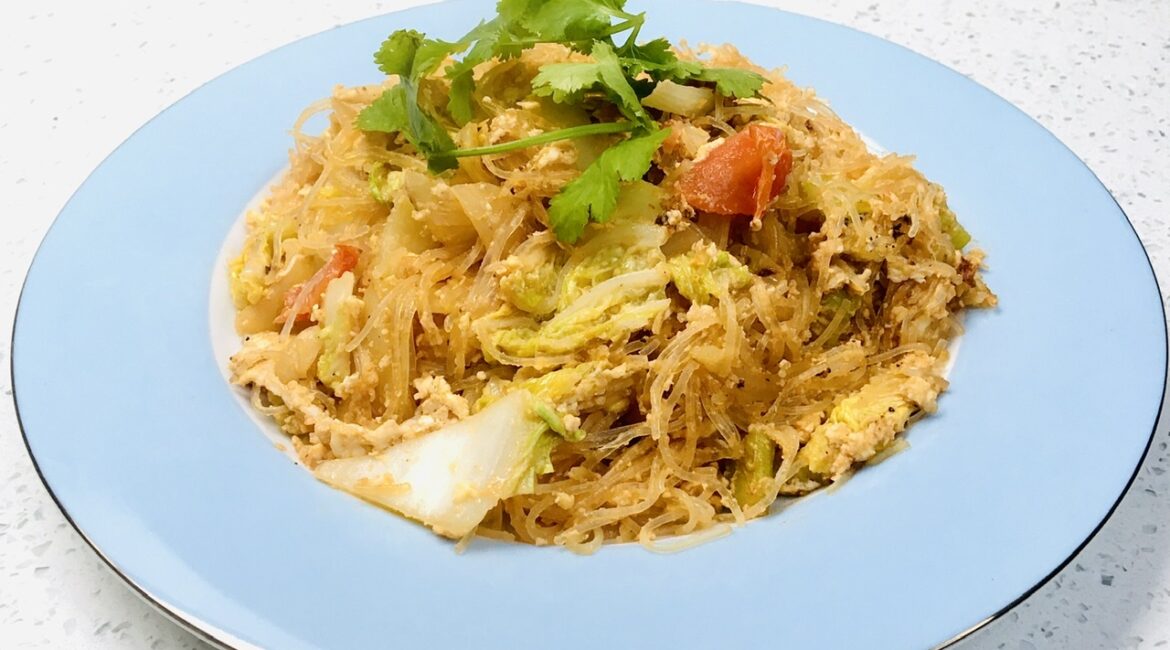 Stir fried glass noodles or 'Pad Woon Sen' is another delicious Thai noodle dish. We tend to serve it as a side dish to go with rice and another main.
Many of you may not have heard of or had this type of noodles, they come in dry form and look very similar to vermicelli noodles. You have to soak them in lukewarm water before use. Once cooked they look transparent whereas vermicelli look opaque. You should be able to get them in any oriental supermarkets or some large supermarkets have them in their world-food section.
I think this is a great noodle dish to try for Thai food novices as it is quite mild in taste. It is one of those dishes which anyone can enjoy and is a change from your egg noodles!
Heat the wok, add the oil - once it is hot add chopped garlic, onion and celery, then quick stir.

Next put in the noodles, oyster sauce, seasoning sauce and ground pepper. Stir it all together until all the sauce is mixed into the noodles.

Add the Chinese leave, keep stirring until the leaves are almost cooked.

Now push everything to one side of the wok, crack the eggs into space and give it a quick stir. Put the tomatoes with the eggs then scoop the noodles on top of it. Leave it like that for 20-30 seconds.

Lastly add tomato ketchup and give it a good stir until it all well mixed and the noodles are cooked. Taste it, they should be soft and no crush to it.

Plate up and garnish with coriander (optional).